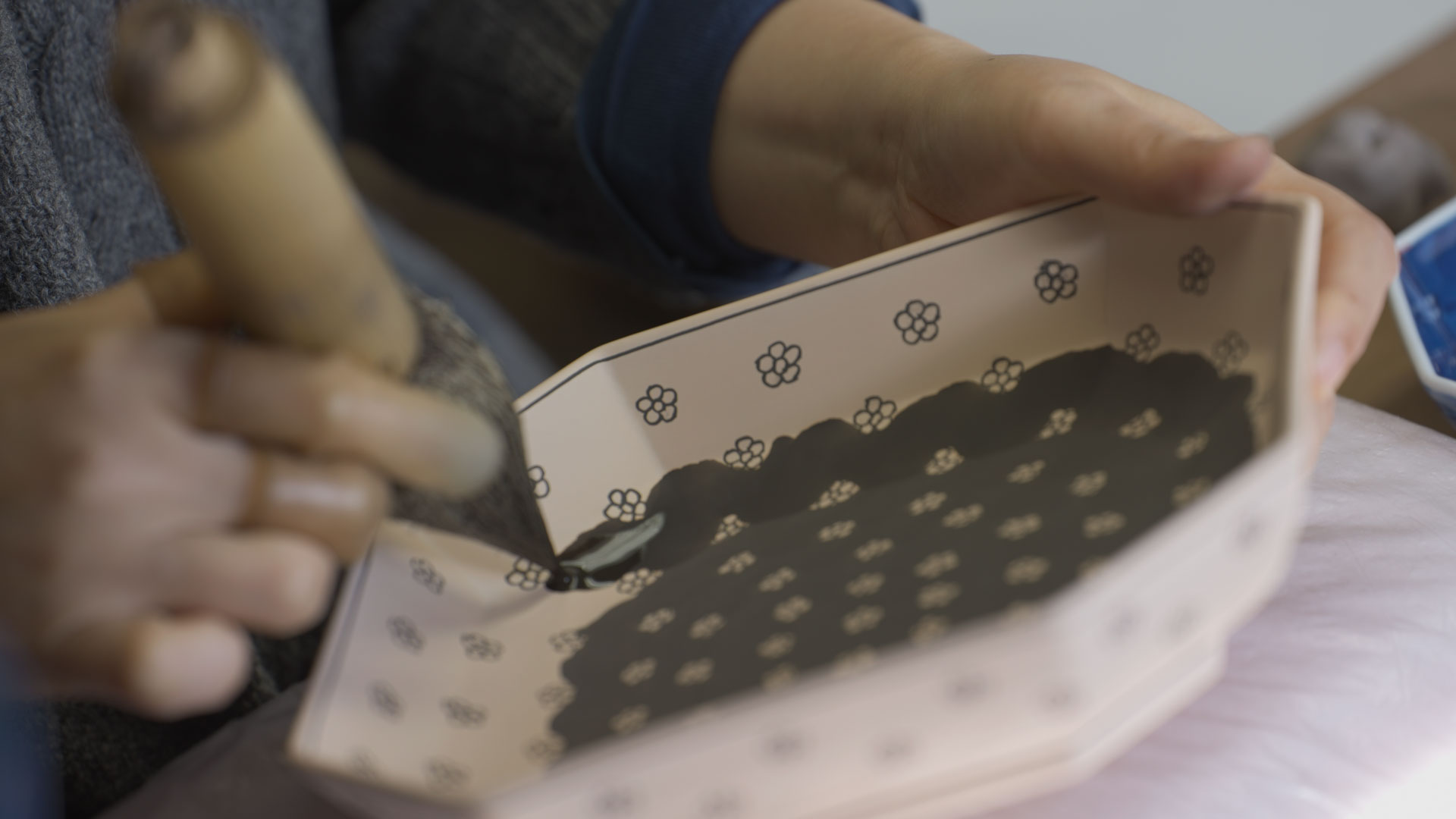 After the unglazing process is completed, the fabric is painted with pigments called gosu. The name of the process changes depending on the type of work, such as "line-drawing" or "darkening". Painting on highly water-absorbent unglazed fabric requires a high level of skill.
After the glaze is applied and the main firing is completed, the piece is painted with a variety of colorful overglazes. The process of overglaze painting also includes line drawing and darkening. The terms "Akae", "Iro-e", and "Nishikite" are all synonymous, and "Some-nishiki" refers to a piece that has been decorated with both underglaze painting (Sometsuke) and overglaze painting (Akae).
Underglaze Printing

This is a transfer technique in which stickers with designs printed on special transfer paper for underglaze painting are pasted onto unglazed fabric and then fired again to fuse the designs to the fabric.
Overgalze Printing

As in the case of underglaze transfer, this is a transfer technique in which a sticker with a design printed on special transfer paper is pasted onto the fabric after the main firing and then fired again (main firing for overglaze) to fuse the design to the fabric.
Inglaze Printing

This is a transfer technique in which a special transfer paper is affixed to the glazed surface of a finished product and fired at high temperature to melt the design of the transfer paper under the glaze and coat it with color.
This is a method of copying patterns onto unglazed fabric by pressing a silicone pad onto the original plate on which the paint has been printed. The flexibility of the silicone pad allows for painting along curved or uneven surfaces. As with underglazing, printing is done under the glaze. It is also suitable for mass production due to its speedy and efficient productivity.
リュA special drill-like tool called a rheuter is used to scrape off the surface of the unglazed dough while directly applying the rotating object to the surface to create patterns. This is a craftsmanship that requires skill and experience.
This is a process in which paint is atomized and sprayed using a dedicated spray gun. It is possible to apply the paint uniformly and evenly over the entire surface to be decorated. It is mainly suitable for mass-produced products as it is quick and efficient.
A glaze containing a glassy substance is applied to the surface of the unglazed fabric and fired in order to add color and durability to the vessel. There are countless patterns of glazes that combine visual and tactile elements, and many tests are conducted to develop glazes that meet various needs.
If you have any questions or concerns,
please contact us by phone or using the Contact Form.
+81-955-42-3164
Mon - Fri 10:00 - 17:00